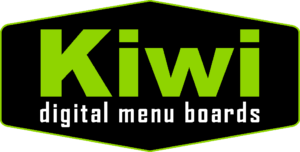 OUR COMPANY
Our team of creative minds has been designing and producing attractive, high quality menu boards since 1994.
CUSTOM DESIGNED DIGITAL MENU BOARD LAYOUTS
We craft the perfect layout of your menu and store it on a USB flash drive, complete and ready to display on your televisions.
EDITING YOUR DIGITAL MENU LAYOUTS
Use our FREE KiwiEZ BASIC™ menu board editor to keep your menu items and prices up to date. For more advanced editing, purchase our KiwiEZ PRO™ menu board editor.  Our Windows-based editors can edit the layout files from either your computer or the USB flash drives.
TEST DRIVE OUR KiwiEZ DIGITAL MENU BOARD EDITORS
——————————————–
VIDEO DEMO – KiwiEZ PRO
Editor